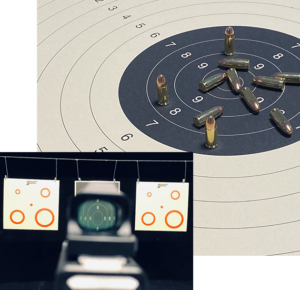 SAFETY AND COMFORT OF FACILITIES
The Swiss Gun Center is a sports complex spanning 2,000 m², dedicated to education and training in the realm of shooting, tactics, non-firearm restraint and physical preparation. Our materials and installations are at the cutting edge of technology.
AIR QUALITY
The Swiss Gun Center is the only Swiss shooting range accessible to the general public and equipped with a ventilation system that pumps air at a speed of 0.4 meters / second, which guarantees unique air quality.
ACCOUSTIC QUALITY
The center has been designed with the latest generation materials guaranteeing optimal safety and incomparable comfort of use.
SAFETY OF SHOOTERS
Swiss Gun Center makes the safety of shooters its primary concern. In order to allow you to exercise in all serenity, the Swiss Gun Center is designed to ensure optimal safety for shooters and users: anti-ricochet floors and walls, aggregate bullet traps (recycled materials), door shielding, access control and video protection system.
ACCESSIBILITY FOR PEOPLE WITH REDUCED MOBILITY
SGC is the only center in the canton of Geneva to allow access for people with reduced mobility. The sanitary facilities, changing rooms, rooms and cabins have been adapted so that shooters with reduced mobility can practice in ideal conditions.