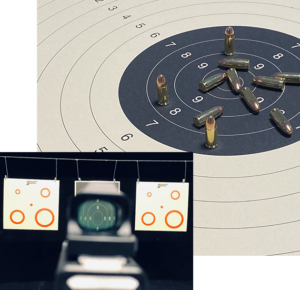 SAFETY AND COMFORT OF FACILITIES
Le Swiss Gun Center est un complexe sportif qui s'étend sur 2000 m², dédié à la formation et l'entrainement dans les domaines du tir, de la tactique, de la contrainte sans arme à feu et de la préparation physique. Nos matériaux et installations sont à la pointe de la technologie.
AIR QUALITY
Le Swiss Gun Center est le seul stand de tir suisse accessible au grand public et équipé d'un système de ventilation pulsant l'air à la vitesse de 0,4 mètres/ seconde ce qui garantit une qualité de l'air unique.
ACCOUSTIC QUALITY
Le centre a été conçu avec des matériaux de dernière génération garantissant une sécurité optimale et un confort d'utilisation incomparable.
SAFETY OF SHOOTERS
Swiss Gun Center fait de la sécurité des tireurs sa préoccupation majeure. Afin de vous permettre d'exercer en toute sérénité, le Swiss Gun Center est conçu de manière à assurer une sécurité optimale aux tireurs et usagers : sols et murs anti-ricochet, pièges à balles en granulats (matériaux recyclés), blindage des portes, système de contrôle d'accès et de vidéo-protection.
ACCESSIBILITY FOR PEOPLE WITH REDUCED MOBILITY
SGC est le seul centre du canton de Genève à permettre l'accès aux personnes à mobilité réduite. Les sanitaires, les vestiaires, les salles ainsi que les cabines ont été adaptés afin que que les tireurs à mobilité réduite puissent pratiquer dans des conditions idéales.